Thanksgiving (USA)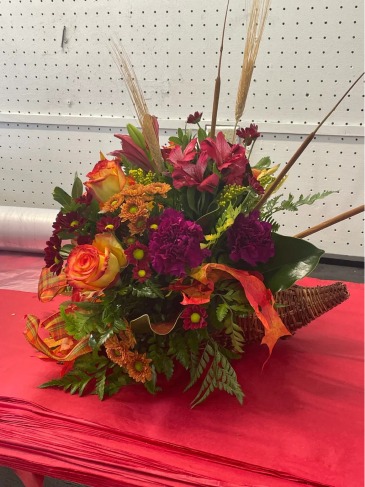 Create a stunning fall centerpiece with our Bountiful Harvest collection of flowers. Inspired by the beauty of the season, these arrangements feature a cornucopia of vibrant blooms that will add a touch of elegance to any table. Shop now and bring the colors of autumn into your home
BOUNTIFUL HARVEST
Create a stunning fall centerpiece with our Bountiful Harvest collection of flowers. Inspired by the beauty of the season, these arrangements feature a cornucopia of vibrant blooms that will add a touch of elegance to any table. Shop now and bring the colors of autumn into your home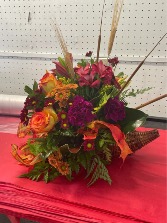 $64.99
BOUNTIFUL HARVEST
Create a stunning fall centerpiece with our Bountiful Harvest collection of flowers. Inspired by the beauty of the season, these arrangements feature a cornucopia of vibrant blooms that will add a touch of elegance to any table. Shop now and bring the colors of autumn into your home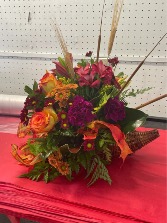 $64.99
Can I pick-up the Thanksgiving flowers I ordered online?
Yes! Some customers prefer to pick up their flowers from the shop to offset a delivery fee or personally deliver their gift. It is up to you if you would like to take advantage of our flower delivery service. We would be delighted to meet you and assist you at The Red Poppy Flowers and Gifts. You are always welcome to ask us any questions or make inquiries regarding future arrangements while visiting the shop.
Can I request a flower substitution in my Thanksgiving arrangement?
Yes. However, during high order volume holidays, such as Thanksgiving, we recommend placing your order as early in the game as possible. This allows you more flexibility to select the exact arrangement or customize the flowers you want. When supplies are lower near the day of Thanksgiving, we will not be able to guarantee that certain flowers will be available and may have to suggest substitutions from the flowers we have available in stock. Feel free to contact The Red Poppy Flowers and Gifts at (930) 232-7008 regarding what specifications you would like to provide for your flowers and one of our associates will be happy to assist you.
Will my flowers be delivered even if no one is home?
When placing your order online with The Red Poppy Flowers and Gifts, please provide further instructions regarding your delivery or give us a call at (930) 232-7008.
Online, you will be able to select a date of delivery that works best for you or the individual you are sending flowers to. If something changes concerning your delivery needs, please reach out to us and one of our associates will help to set up a better time, day, or plan to deliver your flowers.